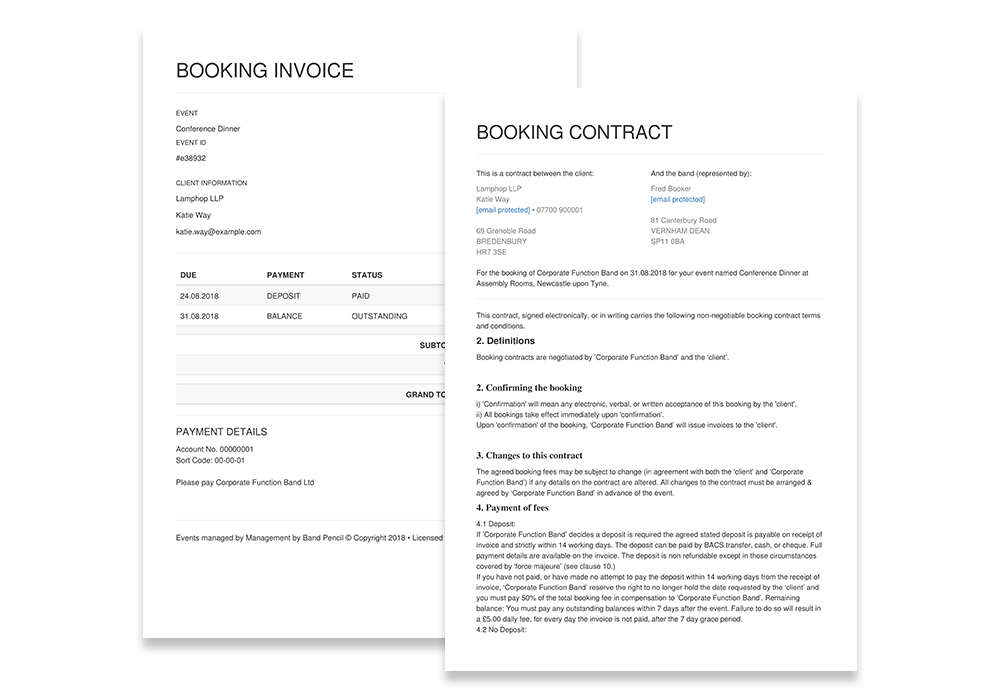 Below you can find a free to use event contract for musicians and bands. This contract is designed for musicians who are perfoming at live events or band leaders who need a band performance contract. You're welcome to download the template below, but make sure you edit all the changable fields to match your event and client information! Once finished we recommend you export the contract to PDF and send, or post to your client for them to sign.
This template is pre-uploaded to Band Pencil, so you can start accept e-signatures and managing your bands with easy. 14-day free trial with no credit card required. Sign up now.
Before you download, we recommend you read some of the sections below to understand more about how live music contracts should be constructed.
Download Free Live Music Contract (Word .docx)
Download Free Live Music Contract (Pages .pages)
Who Can Use This Contract and for What?
This contract template can be used by the following people:
Musicians
Bands
Music agencies
This contract template can be used for the following reasons:
Solo musicians performing at an event
Bands performing at an event
Any other person performing at a live music event
Do You need a Music Booking Contract?
Yes. Always get a contract signed no matter the size of the event or who you're doing it for. It covers both you and the client and provides a suitable place for you to outline your terms and conditions you're prepared to work under.
Who Needs to Sign a Contract?
A contract is between two parties:
You, the person providing the music.
The client, the person who is paying for the service.
You need to issue the contract to the client and request them to sign it and make sure you provide a signed copy to the client. It's also important you keep a copy too.
You also may want to issue a contract to the following parties:
Venue
Agency or gig fixer
Any third party providers you're using to support the booking.
What Needs to be Included in a Music Booking Contract
You might not need all of these clauses, but below are the six most important to include in a booking contract. There are a few more optional clauses included in our free template, you might not need them all and you can always write your own in if needed.
Confirming the Music Booking
You need to discuss the process for confirming the booking, whether this is electronic, verbal or written (i.e. signing this contract). Once the client understands the process, you can outline some terms about fees and what happens next. We suggest that you start the booking will only be confirmed immediately after the agreement has been signed and returned to you. Until then the event should remain provisional.
Changes to the Booking Contract
Sometimes changes need to be made. For example, the client could request an additional addon, such useage of your microphones during the speakes, or adding an additional set. You might also need to make changes. Did you client book you because they wanted a certain musician, or wanted a certain song? If you're not able to provide this or you can provide this but with someone else, you need to be able to cover yourself within the agreement.
We suggest you add the following clause to accommodate this: All changes to the contract must be arranged & agreed by both parties in advance of the event.
Payment of Fees
It is crucial a clause is added about payment of fees. The contract should state that the client shall pay the invoice total by the due date, if they don't they risk legal action, or risk you pulling out from performing at the event. If you are going to take legal action, or add late fees, they need to be stated very clearly in the contract.
Standard Artist Requirements
The client might have never booked live music before so they need to know exactly what you need. The contract is the perfect place to add this as they *should* read it before signing. If you arrive on the day and something has not been provided you can alway refer back to the contract.
Some key requirements you need are:
Power - you need a suitable safe power supply to your performance area.
Venue Constraints - you need to know what limitations you are working with (e.g. noise limits, soundcheck times).
Parking - are parking permits required and who's paying for them?
Security - your instruments and equipment need to be secure so if out about the venue secuirty and who's responsible for it.
Force Majeure
This is a common clause in a contract and it essentially frees both parties from liability or obligation when an extraordinary event boyond the control of either party suddenly prevents one or both of the party from fulfilling their obligations under the contract. A perfect example of this is Coronavirus, but others include war, riot, strike or act of god.
We suggest you read more about Force Majeure here.
Complaints
You need to outline the complaints process within the contract so the client understands how they go about complaining if they aren't happy. This doesn't need to be long, but needs to be clear about timelines and expectations. You may want to link to an external Complaints Procedure if needed.
What Happens When You Sign a Contract?
What Information You Need to Collect with a Signature
Alongside a signature you need to collect a few other pieces of information to secure the validity of the signature. As a basic starting point you should ask the client to first sign the contract, then print their name and date the signature. If the contract is a paper, or electronic signature (e.g. Word or Pages document) there's not much else you can request for them to do.
If you're using an online signature provider you can collect a few more details. For example, Band Pencil will verify the client is who they say they are by sending an email to their email address and providing a secure link which only they can use. Next alongside signing and printing their name, Band Pencil (and most other online contract providers) will record other things such as the date-time-stamp, the users IP address and system information, such as what device they were using to sign the contract. This can all help validate the authenticity of the signature.
What to do When the Contract is Signed?
When the client has signed the contract you need to keep a copy for yourself for your records and you need to share a signed copy with the client. If you're using an electronic contract provider (like Band Pencil) they will usually automatically send the signed contract to both you and the client and save the document on their server. If you're using a paper copy, or a Microsoft Word, or Apple Pages document we recommend you scan, or export the document to PDF and share and save that copy as it is much harder to edit a PDF. We strongly recommend you record the date the signature was added so you have a reference point of when the document was signed.
How to Revoke a Signed Contract?
Revoking a signed contract can be tricky. If you're wanting to revoke a signed contract the first thing you need to do is contact the client and ask if the contract can be revoked. If they agree it is best practice to issue a new contract to confirm the pervious one has been revoked and will no longer apply. Simply deleting a contract will not be valid as the client will hold the other copy and you will be back to square one!
If the terms of the contract have been made null, by example the Force Majeure clause then the contract will no longer be valid and you should contact the client to confirm this with them.
Conclusion
The benefits of using a contract for you live music event is highly worth examining. Hopefully, you should now have a basic grasp of different elements of a contract and how they work.
Remember that you can always use a software to help you manage your contracts like the one we offer in Band Pencil, alternatively feel free to use our free template - we've provided both a Microsoft Word template and an Apple Pages template.
---
Band Pencil does not offer legal advice. Use this contract at your own risk.