In a nutshell, artist management software is a cloud-based platform designed to specifically to help artists (or band managers) manage everything relating to their professional work, from gig bookings, to managing setlists, issuing contracts and managing clients.
Artist management software works very much the same as band management software, but there are some key differences - if you're interested in learning about these differences we suggest you read our article on Artist vs Band Management Software.
Key Artist Management Software Features
User Management & Audit Tracking
If you have several artist managers usering one platform you need some sort of audit tracking to be able to see who changed what. This links in with user management to be able to set privileges to certain users. Often these privileges don't allow users to delete, or edit certain information. This is perfect if you need to allow certain users read/edit only permissions to avoid accidental deletion of information.
Artist & Crew Management
It's hard for anyone to manage multiple different people and coordinate their jobs so a management software needs to offer a system to easily allow artists and crew to see the gig information online. Band Pencil has a musician portal and offers a "self-service" approach so your team can view gig information online 24/7.
Client Management
Clients are key to your artist management business, they pay you for your services at the end of the day. We recommend you pick a service which allows you to securely store client information. An added bonus would be a software which allows the client to view gig information, sign contracts, view invoices and make payments. See more about our client portal here.
Gig Setlist Creator & Music Library Store
Designing setlists for a show can be stressful. You have many factors which need to align perfectly to create the perfect setlist. Online setlists creators will help you calculate the setlist duration, view sheet music, view song key, BPM, and notes. They'll tell you what song is next and how long of the set you have left.
We've spent a lot of time building an all in one solution to this problem and think it is the best online setlist builder, we suggest we read our article on the best setlist bulider to learn more. It allows your artists to design, build and edit setlists in minutes.
Invoicing & Payment Systems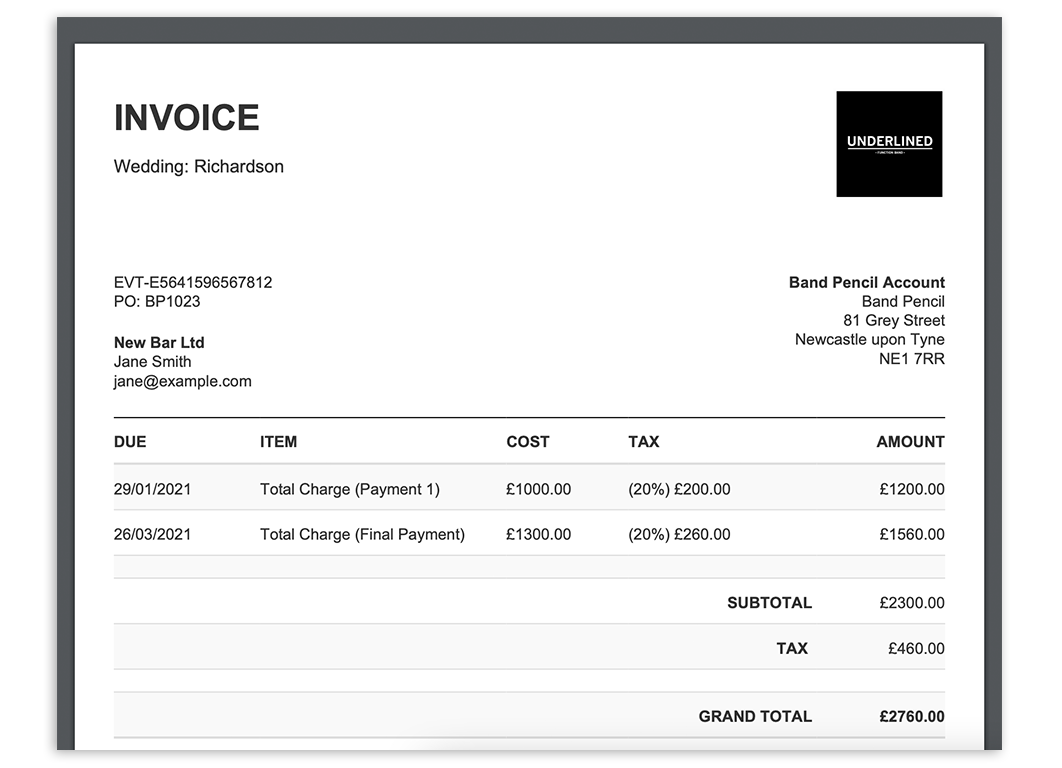 You need to be able to quickly build invoices and track event income and expenses. You also need to be able to download these invoices and send them to clients without having to use a third party software such as Microsoft Word. Being able to track this in a software will allow you to:
Track unpaid invoices
Send reminders
Produce on demand revenue reports
If you want to be paid quickly we would recommend picking a artist management software which has an online payment system. In doing this you get paid quicker; make it easy for clients to pay invoices and easily create receipts on the fly.
With Band Pencil, invoicing and online payments are intergrated and with Band Pencil Pay you can accept payments online. Our built-in invoicing system makes managing invoices easier and speeds up your workflow.
Do You Need An Artist Management Software?
In a given month, how much time do you spend managing holds and booking shows? Artist management can be a full-time job, and for many venue managers it is. Even with the consequences of COVID-19, the venues that have found a way to remain open are trying to fill their calendars with acts well into the future in the hopes that things will get back to business as usual sooner than later.
This is a choice you need to make yourself, but hopefully we can help guide you to the answer. First of all, you need to calculate how much time you are spending organising a gig and how many different services you are using to do this. If you're spending a large amount of time and using may different services (Excel, Word, email, calendars) you may want to consider using an artist management software to bring everything under one roof and store this information securely. Not only this, but storing information in one place and managing your gigs on a software will help speed up your workflow. On average, our artists book gigs and rehearsals 2x faster using Band Pencil's software. That means if it take 12 hours to organise one event Band Pencil will reduce this to 6 hours - that's half your day back to focus on other more important things.
Next up you need to consider how accessible you want your data. Software, especially cloud-based software, will allow you to access your data wherever you are on whatever device. This makes things so much easier when you're on a show and need information fast. Some software (such as Band Pencil) will have tools built in to help you when you're on a gig. Check out our setlist live view, perfect for when you're gigging, enter setlist live view to easily see all the song information and attachments and move to the next song without the hassle.
Finally, software makes you look professional. You investing in a software to help you manage your gigs makes you like you're prepared to invest in the show you've been booked to perform at. Providing the client with access to a client contract, completing forms online directly through the software all adds up to make you look like you have everything under control.
Which Artist Management Software Is The Best?
This is a very subjective decision and really depends on your needs. Choosing the right product for you is a challenging task. Most software will offer some sort of free trial, so I recommend you register with all the softwares that interests you and try them out. Read the testimonials from other users and reach out to the support team to see if you can schedule a demo. Pick a software which has all the features you need now and has the features you may need as you grow.
We suggest you avoid looking at comparison charts or if you do, remember they are probably out of date and they will be very bias towards their own software!